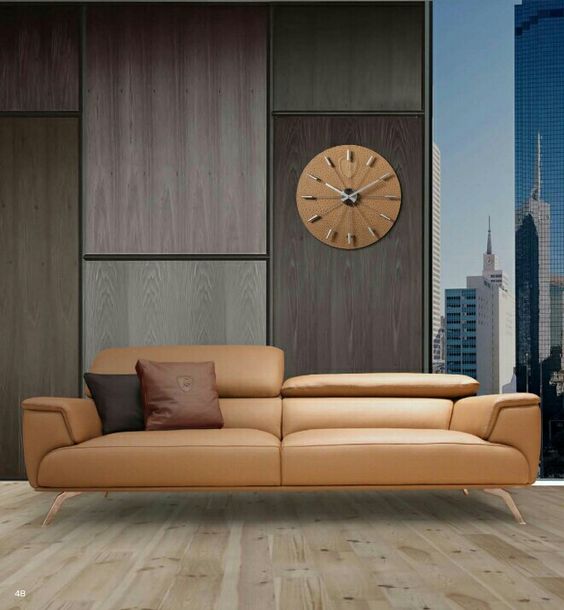 Real Or Faux – Which Is An Ideal Match For Your Home?
Leather is one of those fabrics that enhances the style quotient of anything it is used in, be it a trendy jacket, a pair of awesome shoes or your beloved sofa. Leather furnishings in a household add a luxurious appeal to it and that is exactly why leather upholstered furniture is trending in every home these days.
Although leather furnishings do have their fair share of problems and since it's made from animal skin some people are not very much in favor of having it in their homes. But thanks to technology there is a great eco-friendly solution available for this problem– Faux Leather.
If you are wondering where the actual difference between Genuine and Faux Leather lies and which is the right choice for you, then read on the below mentioned points and take your pick accordingly.
#Just Feel It
Faux leather has an irregular placement of pores in an unusually even and repetitive pattern which give it a cold and smooth texture which can be easily felt on touching it. Real leather on the other hand has a slightly uneven texture and on touch it fat wrinkles can be felt.
#Take A Whiff
This might feel a bit weird, but real leather does have a recognizable distinct smell which is an indicator of it being genuine. Faux leather does not have any such kind of smell in it. Practice with some products you know are real so you can become familiar with the distinctive smell of genuine leather and take a whiff while making your next purchase.
#Durability
Real leather is quite durable in nature and is usually not prone to getting cracked or peeled. Also, real leather cannot be torn easily, but it does fade a little over time with sunlight exposure.
Whereas, Faux leather is easily damaged and very less durable in nature.
#Costing
Real Leather owing to its durable nature costs a bit more and is priced around Rs. 200-300 per meter (approximately) whereas Faux Leather is way cheaper and costs about Rs. 40-100 per meter (approximately).
#Varieties
Genuine Real leather can be further classified into aniline, semi-aniline and pigmented. Pigmented leather is most commonly used due to its even color and durable nature. Anile leather is a high quality leather with no protective coating on it whereas Semi-anile leather has a bit of a light coat of protective coating over it.
Faux leather on the other hand has two primary types of leather- Vinyl and polyurethane or PU. Both these types of synthetic leathers are widely used in upholstery as well as product covers.
Hoping these pointers will make your decision of choosing the right kind of leather upholstery for your furniture a bit simpler.